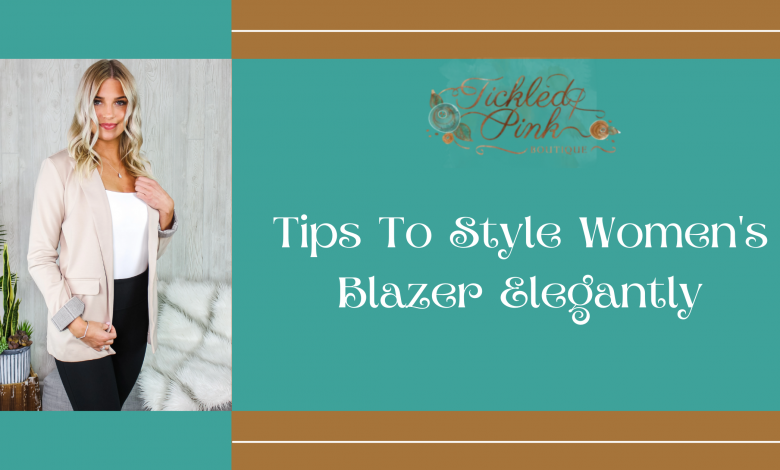 Decades ago, the blazer was thick, formal, and a little boring. But it has changed the scenario dramatically. It has a whole new dimension in fashion now that we didn't expect to come. 
Currently, it is an absolute staple for all ladies. It is versatile apparel, and interestingly you can wear a blazer in EVERY season. Yes…yes, you can wear it all year round. Select light fabric for summer and a thick one for winter.
To make the most of a blazer, women's online clothing stores have some exhilarating styling tips for wearing a blazer both casually and formally.
Keep your fashion game on point with these breathtaking blazer tips
No more the boredom of black blazer 
A black blazer is considered a formal one, and most of us have it. But does it seem boring for you to style it at a party? My friend, you are underestimating the power of a black blazer! Pair it with light grey jeans, white tee for an easy put-together look that helps you look casually stylish.
Spice up the outfit by applying red nail paint and add a wristwatch with a black belt. Accessories are going to amp up your statement look without overdoing it, indeed. With funky accessories, you can have a fresh casual look.
Exquisite style with khaki plaid pattern blazer
Khaki is a trending style, and it's interesting to bring it on in a blazer! You want a casual and relaxed outfit without stepping out of your comfort zone. It will be possible with a plaid khaki pattern. 
Elevate your outfit with a basic t-shirt and black jeans in a flash. Rock this shade effortlessly in formal or informal events. Then, when you style it with fancy earrings and bold makeup, it makes all the elements attractively come together. A lifesaver tip without scrabbling around in your wardrobe to look ravishing.
Oversized suede blazer crave for the attention
Oversized, baggy clothing is a rising trend. People love wearing trendy clothes that offer you style and comfort. A basic oversized blazer is a thing that everyone needs in their closet. But it doesn't mean that you wear shapeless clothes and end up looking shabby. 
Make a trio of flowy top, distressed denim, and an oversized black suede blazer in the office and bring the new formal modern twist. You can also style it over a dress or shorts and tee, especially when you are planning a vacation trip, making comfort your priority. 
Tip: You need to consider wearing a fitted bottom to balance the oversized look.
Set your mood right with a neutral draped blazer
White blazer – an essential staple after black in any women's wardrobe.
When you want to add feminine delicacy, stick with neutral tones for an elegant look. Perhaps, the queen of blazers, princess Diana also sticks with neutral tones for this ensemble.
Pair this blazer with a black or blush pink shirt with blue jeans and make the combo appear sophisticated. Bring a little zing by wearing ethereal chains and rings if you are more on a classy side. It looks tremendous on ladies who prefer edgy and delicate attires rather than slouchy apparel. Wear fine jewelry from Dakota boutique and matching footwear to complete your look.
Sharp and dapper appearance with a grey blazer
Friends gathering, family get together, and not sure what to style? Here we have a remarkable comfy option for you with a unique tip. Go for a dark grey jacket and wear an over-a-striped tee with black jeans. 
It will surely amp up your styling game – we guarantee you! Besides, no one would have imagined this off-duty combination. You can even style it with tickled pink dresses that are available and be the center of attraction.
When in doubt, go for a leather blazer!
You will never go wrong with the classic and vibrant leather blazer. It will never disappoint you when you mix the classic hue together. One of the best options is when you comb through your wardrobe and do not find anything to wear for a business meeting. 
Opt for this classic blazer from boutiques stores online and low neck inner. It will make you get ready for the office without making too much effort. Instead, go for jeans that will keep you comfortable all day long. Style it with a delicate watch, and it will pull together your whole formal getup.
Finish it off with subtle makeup and accessories. You are good to go, gal!
Hey buddy, Blaze in a blazer!
Blazer is no longer an official uniform or a preppy stalwart. You can ace up your look for any events now. Blazer has a diverse variety of styles, colors, and cuts. Before you go ahead and buy them from an online women's clothing store, know about how to style. It is undoubtedly a good investment for the long term when it comes to women's fashion jackets. Multiply your styling option and get your money's best worth out of it.