In the fashion world, boots are the popular choice of footwear for jeans. They are frenemies. If worn together in harmony, it looks marvelous but one false move, and it leads to fashion disaster. 
People prefer boots over traditional shoes while wearing jeans. They are comfortable, durable, and provide you high support. It is an adorable combo but tricky to pair together. There are few things trendy women's clothing suggests that you need to consider to make sure you know exactly how to style boots with jeans.
Hit the spot right with these amazing styling tips
Consider the length of the Jeans
Your jeans length should be long enough so you can fit them over or under the top of your boots. But, of course, they are available in different lengths. Some of them are longer, and some are too short that might not extend all the way to your boots. 
No doubt, you can still wear it, but it looks awkward and unflattering. Avoid this headache and go for a pair of jeans at an appropriate length. You can even get custom-size jeans according to your body measurements. As a result, it fits you perfectly and offers you a higher level of comfort and style in the process. 
Style-cut of the jeans matters!
You need to consider the style-cut of the jeans. It refers to a way that is designed to fit when worn. The style cut isn't the same as the size. It simply refers to the measurement of jeans whereas cut refers to the way in which it is worn. For example, straight leg cuts involve pants that run straight through the legs.
There are a variety of cuts in which jeans are made. A boot cut is the most popular choice that doesn't run straight through the legs. Flare leg jeans feature a flared bottom, the denim fabric flares out. In boot-cut jeans, you can slide these flared bottoms over top of your boots, so it's known as boot cut jeans.
Appropriately coordinate with the color 
Your jeans should highlight a color that matches your boots. Don't forget. It can be the same color as your jeans. For example, if you wear black boots, style them with black jeans. As long as they are coordinating, you can wear jeans in other colors.
Color is so popular in jeans that it can even be related as a synonym with jeans. It was first invented in blue-colored denim, and it transitioned from all dark to light shades. So regardless of what you style, you will probably color coordinate with blue jeans.
Stay comfier with stretch jeans 
Stretch jeans offer the same visual design as regular ones. The only difference is that it is made of a special type of denim. In addition, it contains an elastic material such as lycra that makes it more flexible. However, it is an excellent choice for boots.
If they are not boot cut, they can easily fit over the top of your boots because the stretch jeans are elastic. It is available at a women's western wear boutique in the same color as regular jeans. So while wearing boots, you can surely go with a pair of stretch jeans.
Washed or raw denim jeans 
Denim jeans are presently available in both raw and washed denim. When you intend to wear them with boots, choose the former type. Washed denim is washed during production. Manufacturers literally wash it before using it. In comparison to that, raw denim is not washed during production. 
Washed denim is a better choice for boots than raw ones. This is because the bottom will typically touch the top of your boots. 
Take the weight of jeans into consideration
Jeans are made of denim, so consider their weight. The use of denim differs them from other types of pants and trousers. Jeans are made with denim, and it results in a heavier weight. 
Usually, heavyweights are more substantial and durable compared to lightweight. It makes them ideal for boots. Most people wear boots when working or hiking outdoors. When you wear heavyweight denim, it helps you stand out in physical activities. Without degrading, it shows signs of wear and tear.
Fading does work in style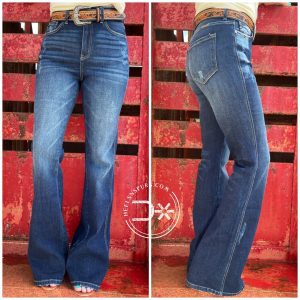 You need to consider another thing when wearing jeans with boots is fading. Sometimes it is designed intentionally with marks or patterns of fading. As a result, it offers you a more worn-in appearance than its counterparts. 
The patterns or marks on jeans are known as whiskers. It resembles the whisker of a cat or feline. Usually, on the knees and thighs of pants, you will see streaks and slightly lighter in the color of denim. It adds a unique visual element that gives jeans a worn-in appearance. 
Wrapping up:
Boots are obviously a no-brainer to style in any weather. You might even find yourself sometimes wondering when it's time to put them away. Thankfully, our trendy online boutique has a solid collection of boots that can work for any season! It's all about how you style them. Considering these tips, you can amazingly style boots with your jeans.