Finance
Transforming the Finance Industry with FinTech App Development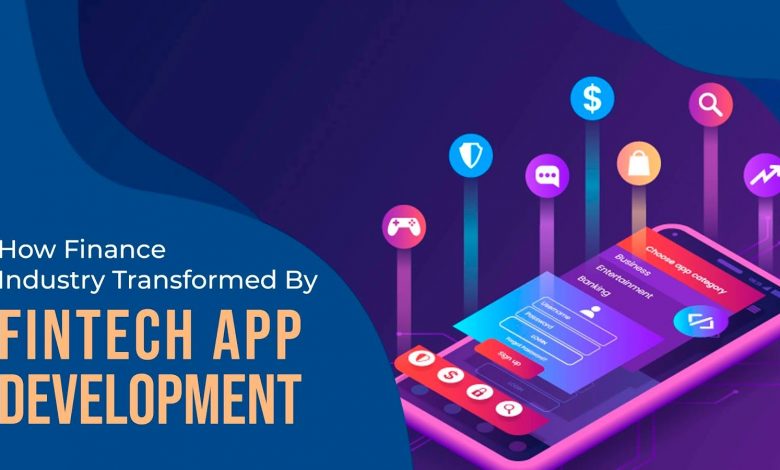 Long gone are the days when you had to stand for long hours in a queue to withdraw money from your bank account. The modern-day banking system, or should we say the Fintech industry, has entirely revolutionized the way we deal with our financial transactions.
Fintech app solutions have greatly affected the entire financial industry in very little time. Get this!
The global Fintech market stood at a valuation of $5504 billion in the year 2019. Moreover, it is expected to rise at a CAGR of 23.58% from 2020-2025 further. These numbers are huge and clearly suggest that there is a lot to come ahead.
But, how are Fintech apps bringing digital transformation in the finance industry ? What are the future perspectives of this? There are many other aspects to uncover about Fintech.
Let's dig a bit deep and find out!
Ease of Access and App Diversity
The core reason behind the heavy impact of Fintech on the finance industry is the ease of accessing the services. Today, almost every bank in the world has its own app. Moreover, there are many third-party payment apps that can be used to conduct financial transactions.
These apps are not just limited to conducting banking-related transactions such as deposits and withdrawals, but they can also be used for various purposes! For example,
Lending: There is no more need for you to visit the bank branch to get a loan. You can do it easily via your banking app. The concept of online documentation has made loan processing absolutely seamless. One can also request their credit card statement multiple times without revealing their score. Petal is a service that offers lending services via its app.
Trading: Third-party payments have this feature. Using the trading option, one gets the ability to invest online while monitoring risk in real-time. Some good examples of such apps are Apple Pay and Easy Pay.
Personal banking: Most of the banks around the world focus on personal finance app development. The key reason behind this is the user experience. The ability to manage money easily online provides convenience while building loyalty. These apps also provide online wallets and user profiles for a better user experience.
Insurance: Just like lending, today, you can get your insurance claims approved online in an effective way. Just scan and upload the necessary documents on the insurer's portal, and you are good to go.
Personalized Customer Support
Customer support is a pillar element of every business. If you are not addressing customer issues, you may not survive the cut-throat competition.
As far as the Fintech app solutions are concerned, there are various effective ways that the finance app development sector has devised to resolve all sorts of customer issues.
Chats, calls, emails, and help centers are some of the commonly used assistance channels by the users of Fintech applications. However, unlike traditional methods, one ingenious way through which the users connect with the Fintech app support today is Chatbots.
The key advantage of chatbots is that it does not need any humans at the support end. Hence, a customer can get the solutions to their respective problems at any time, even during off-hours.
Moreover, chatbots are pretty fast as compared to human customer support. 44% of the users prefer to talk to an AI-powered chatbot as it is reliable and faster in responding.
Many banking organizations around the world serve their customers through chatbots such as:
Bank of America uses Erica as their chatbot.

JPMorgan Chase has COIN that analyzes complex contracts easily.

American Express uses AmEx messenger chatbot.
Total Digitalization
One clear motive of the Fintech app solutions is to offer complete digitalization. This is the reason all of the financial institutions around the globe are investing heavily in finance app development.
Other than banks that have physical branches around the globe, a new trend has surfaced and has gained massive popularity. The trend is known as the direct bank or virtual bank that does not have a physical branch. It is one of the ideal examples of total digitization of services.
These banks just have an app that caters almost all types of banking services to the users like P2P payments, ATM card facility, scanning of photo IDs, bills, cheques, and many more. Currently, many direct banks are operating around the world, such as:
BankMobile
Atom Bank
Moven (a US-based mobile financial service provider)
Other than this, other ways that have led to total digital transformation in finance industry is by:
Omnichannel banking (through web apps and social networks)
Decreased transaction fee
Lower error risk
Challenges and Future Perspective
Along with positive impacts, there are some negative impacts too of personal finance app development. Fintech apps have attracted a lot of online frauds since their inception.
As per the fraud report of 2020, the US recorded the maximum increase in fraud rate (10%), followed by Vietnam (9%) and Nigeria (6%).
Payvision, which is a payment processing provider, was accused of conducting fraud transactions.
Various other examples have led to the adoption of robust security measures by Fintech institutions. Here are some of the necessary measures:
Compliance with the set rules and standards
Make AML/KYC an indispensable part of your system
Invest in advanced cybersecurity like firewalls
Have a robust cloud infrastructure
Future Perspective of Finance App development
Along with the current scenario, it is also necessary to acknowledge what the future holds. The future of personal finance app development has some brilliant aspects and state-of-the-art trends. Some of these are even adopted by financial organizations.
Adoption of technologies like Big Data analytics and Cloud Computing

Rise of Banking As A Platform (BaaP)

Open banking is just the tip of the iceberg

Increased adoption of innovative technologies like AR, VR, Voice recognition, Face recognition, etc.
Final Words
Fintech as a sector is still evolving, and there is a lot to come. If you are planning to start a business venture, it is best to pick Fintech software development. It is not that populated, but it will be the key way to manage your finances in the future, which will, in turn, benefit you. Thus, bringing digital transformation in finance sector.