Air Pollution in Pakistan
Air Pollution has become a serious challenge for Pakistan in recent years you need air purifiers for it. There are several reasons for this. However, among the primary reasons are the substantial increase in population, industrialization, usage of low-quality fuel, and absence of remedial measures to control pollution. Uncontrolled air pollution has subsequently increased the smog levels in Pakistan which is the cause of several types of diseases affecting the lungs as well as eyes. Some infections can even lead to death. This serious situation requires drastic steps from the State, which so far has not taken any such preventive measures to reduce air pollution. The public however must consider the seriousness of the situation and take steps to minimize the harmful effects of air pollution.
Air Purifiers and Their Importance
Air purifiers have been around for a while. However, their usefulness has been recognized recently due to public awareness regarding air pollution. There are two types of air purifier systems. One that is installed into your home ventilation system while the other is the standing air purifier. The former is more expensive and can only be installed if you have an entire HVAC system installed in your home while the latter is usually a standing unit that works as a single room air purifier and is more affordable. The process of both systems is almost the same. The quality and effectiveness of air purifiers depend on several factors such as the Clean Air Delivery Rate (CADR), coverage, type of filter, and energy usage. The best air purifier is considered to be the one that delivers a higher CADR with average coverage and efficient energy consumption. Many brands of air purifiers are now available in the Pakistani market. These include Xiaomi, Philips, Haier, Beurer, Air purifier Gree, and many more. Below, we will discuss the five best air purifiers in Pakistan.
GREE GA 350 WI Air Purifier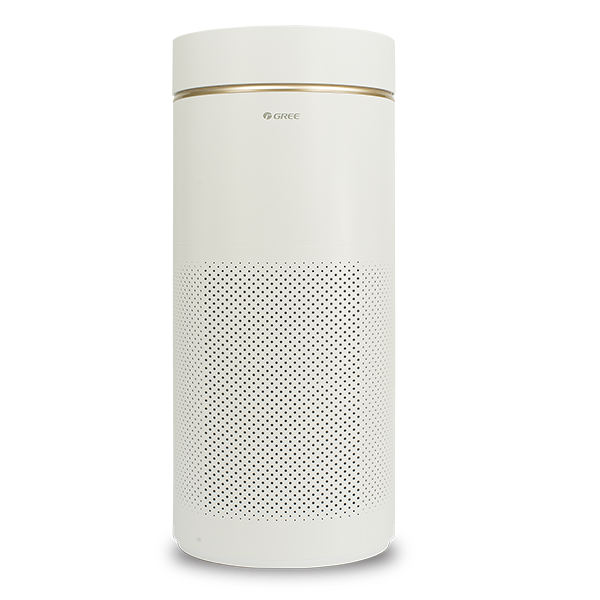 This powerful air purifier by GREE has a whopping CADR of 350 m3/h and can conveniently provide coverage to rooms with a size range of 25 to 42 square meters. It kills up to 99.99 % of bacteria and germs. The purifier is equippe with an air quality indicator and a filter replacement reminder. It has three operational modes. You can select among five different fan speeds according to your comfort. Its high power and high CADR make it the best air purifier for Smog and therefore the best air purifier for the Pakistani environment. It is available for a price of Rs. 45,000 and is one of the top-rated air purifiers in Pakistan.
PHILIPS AC0820/30 Series 800 Air Purifier
Philips is a known name when it comes to home appliances. It has recently introduced its line of air purifiers with different features and prices. The Series 800 air purifier for home claims to remove 99.5 % of particles with a particle size as low as 0.003um. Claims to remove 99.9 % of bacteria and viruses. It has a CADR of 190m3/h and is suitable for a room size of 532 sq. ft. It is equipped with an air indicator that shows the air quality inside the room. Philips has a power of 22 Watts and a filter life of 12 months. The air purifier price of PHILIPS series 800 is Rs. 30,000 and it comes with a two-year service warranty. The PHILIPS air purifier is compact and most suitable for small size rooms. It is arguably the best air purifier 2022 in terms of efficiency and durability.
Haier KJF600KCAA Air Purifier
With a CADR of 364 m3/h and area coverage of 473 Sq. Ft, this air purifier by Haier claims to have a filtration efficiency greater than 99 %. It has a power input of 64 Watts. The filter is considered best when it comes to the removal of pollen from the air, making it one of the best air purifiers for allergies. It is equippe with an air indicator that shows the air quality index inside your room. The reason why it is on our list of best air purifiers for homes is its power and a substantial CADR. The Haier KJF600KCAA Air Purifier is available for a price of Rs.46,000. However the air purifier carries no warranty.
Beurer LR-210 3- Layer Air Purifier
This indoor air purifier by Beurer is equipped with three filtration layers (Pre-filter, activated carbon, and HEPA filter), thus enhancing the filtration efficiency considerably. It removes particles as small as 0.02 µm with an efficiency of 95 % and 99.99 % of particles with size as small as 0.03 µm. This house air purifier is best for the removal of dust, pollen, pet dander, etc. It is suitable for a room size between 10 to 28 square meters. It has an air indicator and a filter indicator. The former shows the air quality while the latter issues alerts when it is time to clean/replace the filter. It has a warranty of three years and is available for a price of Rs. 30,000. It is ideal for small rooms and can use as an air purifier portable.
3M Filtrete FAP04-RS-2C-A Ultra Slim Air Purifier
The Ultra-slim slim air purifier by 3M is a compact but powerful purifier. It can capture particles as small as 0.03 µm with an efficiency of almost 99 %. This purifier is ideal for physical filtration and works well for capturing dust, pollen, and irritants. It is most suitable for a room size of 350 sq.ft . At a price of Rs. 64,000, the purifier is relatively expensive when compared to the same size units of other brands.
Conclusion
The best air purifier should be determine by considering several factors such as CADR, area coverage, filtration efficiency, etc. You should also consider the room size before you choose to buy an air purifier. We would recommend that you go for an air purifier with high CADR and coverage so that the main purpose of an air purifier is achieve. Another important factor is the availability of spare parts and filters. You should not be spending money on a fancy air purifier only to find out later that the filters for that particular brand are not available in the Pakistani market.