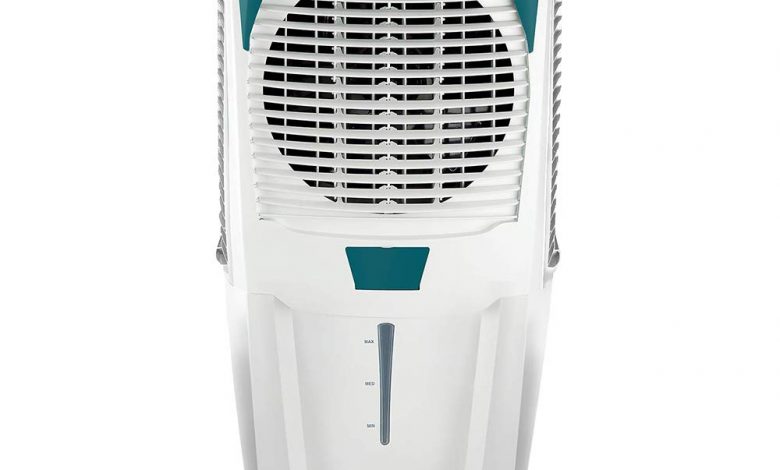 Best Air Coolers in India 2021
An air cooler is a device or heat exchanger that is used to cool or dehumidify the air. The best air coolers in India is the most economical and the most effective tool to get rid of the heat at a reasonable price. However, there are different types of coolers available in the market nowadays.
One can choose the right air cooler for them based on their needs and requirements. If you need an air cooler in your bedroom, you can invest in-room cooler, on the other hand, if you want central air cooling, you can opt for duct cooler. Jumbo coolers are available in the market in large halls or for large officials.
This is because they are designed for a large area to cool. However, the size of the air cooler has no effect on the basic principle of operation of the cooler. so read more about the best air coolers in India 2021.
read also Laptop Charger & Adapters-Best Options for Laptop Users
Crompton Ozone 75-Litre Desert Air Cooler
When you're looking for a good desert cooler to conquer the summer heat, there are a few brands out there. One of those brands is Crompton Ozone 75 Liter, Desert Cooler. If you're looking for a cooler this year, there are a few upgrades to traditional cooler technology that might interest you.
The Crompton Ozone Lit 75 Liter Desert Air Cooler is designed as a heavy-duty cooling machine, which looks as decent as the cooler and works well. This particular cooler has the capacity to effectively cool a 550 square foot room / medium sized hall. In short, anyone can use it in the bedroom. However, it works well in the living room or hall.
The Crompton Ozone 75 liter dessert air cooler works best when placed in a place where cross ventilation is available. Cross ventilation allows excess moisture to escape while maintaining a cool temperature. Since it is a powerful cooler, it throws cold air for a distance of 52 feet. This effective cooling is due to the new Honeycomb design cooling pad.
Best features
Extra effective cooling due to honeycomb pads that provide better flow and faster/more effective cooling of air.
Powerful heavy-duty cooling capability which ensures that a large room or hall will be cooled effectively and quickly.
With an efficient electricity consumption of only 190w per hour, this cooler is not going to give you sleepless nights over electricity bills.
Pros:
This cooler provides extremely effective cooling
It is not very expensive as compared to other coolers in its range
Cons:
The cooler is by no means compact and small
The cooler comes in a limited variety of colors
Havells Celia 55 Litre Desert Air Cooler
When you are looking for a nice cooler, something aesthetically appealing is still impressive, the Havells Celia Desert Air Cooler 55 Liter, which you are looking for. It offers a range of features that make it convenient for your personal use. One of its features is the remote control which enables you to adjust its function like AC.
The Havells Celia Dessert Air Cooler 55 Liter gives you a quiet motion experience making it ideal for bedroom or home use. With specially designed fan technology, it ensures a very quiet atmosphere. In addition, it also offers other features, such as fully collapsible louvers, which prevent dust and insects from entering, i.e. low maintenance.
Overall, the owners of the Havells Celia Desert Air Cooler 55 liter give you a convenient and enjoyable experience. The Havels Celia Desert Cooler is designed to ensure you have an excellent user experience. It comes with all the other features one would expect and a few more.
Best features
It provides you the ease of use due to the remote control facility that it comes with.
3 side honeycomb pads to ensure quickest and most effective cooling.
Other convenient features include a cord winding station, eliminating messy cords all over the place, and the auto-fill feature/function eliminates the need to manually refill continually.
Pros: 
Statistically speaking, it has a high user rating of 4.5 out of 5 from 217,877 users.
It comes with a 1-year warranty
Cons:
It is not the cheapest cooler available in its range
It does take up a bit of space due to its 55-liter capability
Why Buy Air Cooler
Air coolers are a completely affordable and economical way to invest your money. If you spend in an efficient air cooler, you can enjoy the cool air without saving.
Air coolers are comfortable to stay in your home, as they come with wheels so you can move them to your preferred location when you need them.
They require less maintenance than air conditioners. Furthermore, you can handle some parts of the air cooler yourself instead of waiting for service help from the company.
Air coolers provide completely natural and pure air. They give comfort and relaxation to the people sitting in the room where he is sitting. Air coolers work not only in humid weather but also in dry weather but all the reasons give you a completely cozy and comfortable atmosphere. so this topic concludes with the best air cooler in India.