As the deadly COVID-19 is upon us, our life is becoming risky day by day. We need to take extra care of ourselves. Along with other safety measures, one should also be aware of all the important medical equipment/devices that can be used in critical situations. In this article, we will be sharing details about one of such important devices i.e. Oxygen Concentrator.
What Is An Oxygen Concentrator?
An oxygen concentrator is a type of medical device that concentrates the oxygen from surrounding air to deliver an oxygen-enriched gas stream to individuals having breathing-related disorders. It consists of special filters and sieve beds to filter out the surrounding air. It delivers completely purified medical oxygen by filtering out nitrogen and other gases from it.
Some portable oxygen concentrators also come with an electronic user interface that allows you to control and adjust the oxygen concentration and delivery settings. You can inhale purified oxygen through the nasal cannula or special mask.
When Do You Need It?
An oxygen concentrator is a very important piece of medical equipment. Individuals with lower oxygen saturation levels in their blood or any breathing disorders need to buy a budget-friendly oxygen concentrator after a proper medical evaluation. The doctors will determine the level of oxygen you need. It may vary in different situations like during sleep, at rest, during exercising, etc. They will also show you how to use an oxygen concentrator effectively at your home or during travelling.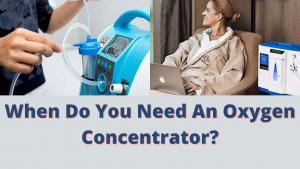 Some Important Use cases of an Oxygen Concentrator are following:-
If you have low levels of oxygen (below 94%) in your blood then the doctor may recommend short-term or long-term oxygen therapy. In that case, you might need an oxygen concentrator.
It proves to be very useful for individuals having respiratory problems or any other breathing issues. It provides purified oxygen for hours and doesn't need to be refilled or replaced with anything. 
In Case Of Some Acute And Chronic Diseases
It can also be used if you have symptoms of an acute disease such as Asthma, Respiratory Distress Syndrome(RDS), Pneumonia, Bronchopulmonary dysplasia(BPD), Sleep Apnea etc. There are also some chronic diseases for which doctors recommend long-term oxygen therapy. Such chronic diseases are cystic fibrosis, COPD, etc.
These days, this medical equipment becomes a necessity, especially for COVID patients. Doctors frequently check the oxygen saturation level usually on a pulse oximeter and if they find it less than 94% then they recommend using an oxygen concentrator.
How To Use It?
As an oxygen concentrator is a machine, It needs to be set it up properly before using it. Once you set the device then only you can turn on the machine and adjust the oxygen flow rate. So we are listing several steps which would be helpful for you while using it.

Step 1:
Firstly you need to set up the oxygen concentrator. As it takes the oxygen in and then releases exhaust, it requires proper space without any obstructions. Because of continuous air circulation, sometimes the device becomes hot and can cause a fire risk.
So you should position the machine 1-2 feet from the wall and furniture. Make sure there are no curtains or other items that catch fire easily, around it.
Step 2:
If your doctor prescribed a humidification bottle then connect it to the machine. It generally happens when you need an oxygen rate of 2-3 litres/minute. The location of the humidifier may vary depending on the model of oxygen concentrator you use. So attach securely as shown in the user manual.
Always use distilled and pure water in a humidification bottle and keep changing the water every time you use the machine.
Step 3:
Attach the oxygen tubes to the humidification bottle if it is present. If there is no humidification bottle then you need to attach this tube to an oxygen adapter.
Step 4:
You should start your oxygen concentrator 15-20 minutes before using it. Because it takes 15-20 minutes(may vary as per your model) to maintain the required concentration of air.
Whenever you turn on the device, an alarm will sound. So listen to it carefully and make sure that it is not accidentally turned on.
Step 5:
Now adjust your oxygen flow rate as your doctor prescribed and put on the oxygen mask or nasal cannula and breathe. Make sure that the oxygen supply is uninterrupted.
Step 6:
Turn the oxygen concentrator off when it is not in use.
Conclusion
Now you are aware of all the important features and use cases of an oxygen concentrator. So look at your requirements and if you really need it then buy a budget-friendly oxygen concentrator. Don't forget to get suggestions from your doctor. Stay safe and healthy!!