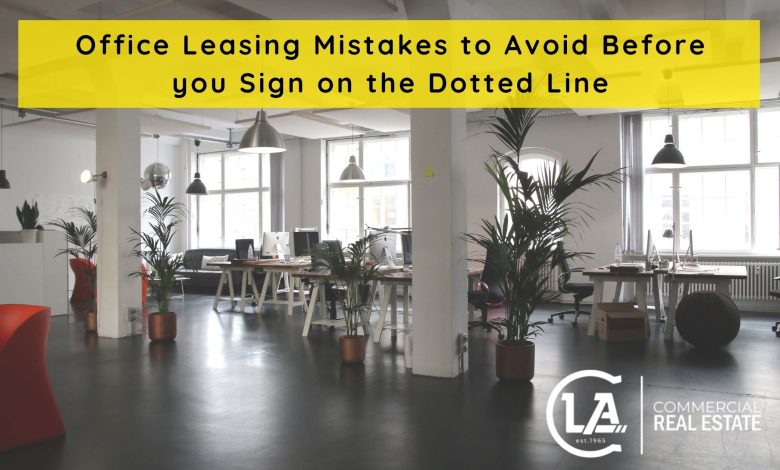 There is a whole lot of paperwork involved in commercial real estate when it comes to leasing office space in Corpus Christi. One of the common mistakes that tenants make is to rush the process and sign the office lease without taking time to analyze all the possible clauses. Doing so may have serious implications on your business in the long run. It is thus important that you understand what you are signing when you lease office space so that you can efficiently manage your business in the future.
In this blog we will discuss the common mistakes you do not want to make when signing commercial real estate Corpus Christi leasing documents.
Not Getting a Lease in Writing
This is very important since verbal agreements are not legally binding. Make sure you have the lease terms in writing and that they accurately reflect the agreement you have made with your landlord. If there are any differences, then it is best to clear them up before signing on the dotted line.
Signing a lease without fully understanding the terms and conditions
This is one of the biggest mistakes that tenants make. It is very important to read and understand the entire lease document before you sign it.
Landlords think hard on how they can legally make money from their tenants, and therefore there are certain clauses that they insert in their leases which you should be aware of. Go very carefully over the amount of rent, security deposit and other terms and conditions of your tenancy to ensure it is reasonable and fair.
Furthermore, it is critical to check the commercial properties you want to lease are legally zoned for the type of business you want to conduct and are in accordance with your city's ordinances.
Lack of Tenant Representation
Commercial real estate is often complex and can be daunting for the average person. That's why it's important to have a knowledgeable tenant representative on your side to help you navigate through the entire process, right from finding the right space to negotiating the best lease terms. Many landlords will try to take advantage of unrepresented tenants, So having experienced realtors in Corpus Christi, TX, by your side is crucial when signing a lease.
Not Checking the Credit Score of the Landlord
Another mistake tenants make is not checking the credit score of the landlord. This could be a costly mistake, as you may end up in a situation where the landlord does not have the financial stability to maintain the property and meet his obligations. You should also research the landlord's background to make sure that he has a good track record and is not involved in any legal disputes.
Lack of Planning
Another important factor you should consider is the amount of time it takes to get into your new office. Your business will suffer temporary loss of productivity if you are not able to plan the move on time. You should therefore ensure that the new premises are ready for occupation when you vacate the old one, so plan ahead by at least six months. If you need more time, speak with your landlord or his representative about it.
Space Requirement
Businesses sometimes make the mistake of underestimating or overestimating their office space needs. This can be costly in the long run, as you may have to pay rent for a bigger office than the one you require if your business increases beyond expectations. On the other hand, you will be paying more than necessary if it turns out that you need a smaller space. Let an architect or a space planner measure the exact amount of space your business needs. This will help you get clear on things that you may not be thinking about and will save you time and money.
No Future Planning
Tenants often make the mistake of not planning for their future needs. They may sign a lease for a short period of time when they actually need a longer one. Or, they may not think about the possibility of expanding their business and need more space in the future. You should always have a plan B in case your business outgrows your current office space. This will help you avoid any penalties for breaking your lease agreement.
Not Getting the Landlord to Pay for Utilities
This is always a misconception that tenants have when starting out in their business operations. Some landlords will say they are willing to pay for utilities but there are hidden charges, so be very careful before you sign up for this service. It may turn out to be an expensive and tedious affair. You are better off negotiating to have the landlord pay for all or part of the utilities so that you don't have to worry about it.
Moving Ahead Without Inspection
Before you move in, always have the property inspected by a professional. This will help you identify any potential problems with the property that you may not have noticed before and can help you negotiate better lease terms with the landlord.
Your real estate agent in Corpus Christi can also help by getting the landlord to agree to pay for the inspection and have it done as soon as possible so that there are no last minute surprises.
Not Getting Approval from the Landlord for Alterations
Tenants often want to make changes to the property they are leasing, such as painting or installing new carpeting. While most landlords will not have a problem with this, it is important to get written permission from the landlord beforehand, otherwise you will be forced to undo any changes if he decides he does not like them.
Conclusion
Leasing an office space can be a daunting task, but if you are aware of the most common mistakes tenants make, you can avoid them and have a smoother experience. Having an experienced realtor on your side will also help you to secure the best commercial property for sale in Corpus Christi.