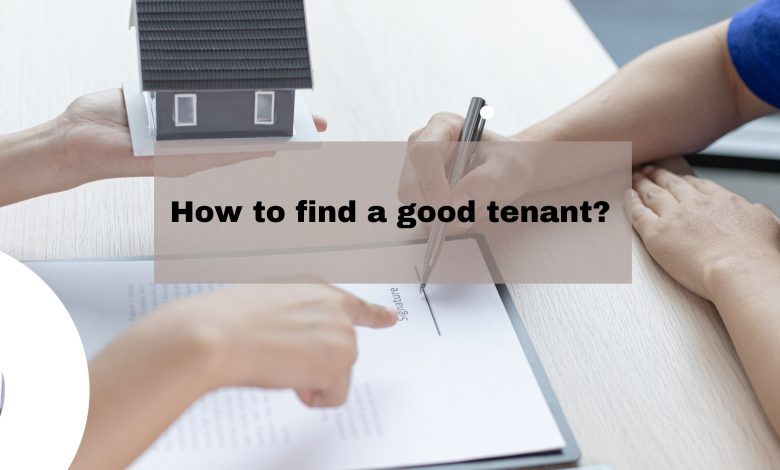 One of the most important factors in the success of your real estate empire is the quality of tenant living in your properties.
While working to finding a great tenant will help you in providing you a great return on your investment. But when you settle for a bad tenant then it will completely destroy your savings.
Being a property manager, you need to make small decisions about Tenant management services. Also, you need to take care of the property.
So, you must know how to find a great tenant as a landlord. If you are looking for a real estate or property manager then first you should understand what goes into finding a great tenant.
In this article, we have listed some of the best methods of How to find a good tenant for your property
Methods to Find a Good Tenant for your Property
1: Initiate tenant-screening process:
While finding a great tenant you need to start with a great tenant screening process. So, in order to avoid discrimination claims, you must apply the same tenant screening process with every applicant.
When you have a written tenant policy then it will ensure that every time you and your property management team address a potential tenant and every tenant should be treated fairly.
Not only do the written screening policies serve as for interaction with applicants but it is also a good way to show that you are legally evaluating a potential tenant.
In order to evaluate an applicant's rule and their level of financial responsibility, you should need to consider checking their criminal history and their public records, credit reports, and many more things.
Here are some of the best tips to avoid dodgy tenants:
1: Being a property manager you should know that the applicant doesn't have any criminal convictions for crimes. As it is considered harmful to people or property.
2: The applicant shouldn't have a history of noise complaints.
3: The tenants don't have a history of lease violations.
4: The tenants don't have a history of evictions due to their lease violations.
5: The tenant shouldn't have any falsified information.
6: The tenants should pay the bill on time.
2: Ask applicant informative and legal questions:
When you ask your rental applicant's interview questions then it allows you to get to know their personality. You just need to ask them questions about any areas of potential concern.
Also, you must be aware of how to ask questions and engage your tenant in conversation i.e. not only informative but should avoid violating the fair housing act.
3: Write down a compelling listing:
Today 91% of tenants are using an internet listing service in order to find their next rental, writing, and compelling listing. Also, it is the first step to attract quality tenants. Thus, it is a primary way to entice the potential tenants and to view the property.
So, whenever, you are writing the listing then you need to ask yourself the following given questions:
1: Is there is any listing headline that would show the interest of desired tenants?
2: Is there is a way for potential tenants to contact me?
However, if the answer is no to any of the above-given questions then you might want to take a step back and again re-write your listing. When taking the time to do so will help you in attracting a larger pool of quality tenants and in this way, you can also increase your chance of leasing the rental sooner.
4: Ask them to show their previous property is in good condition?
What you see indeed is what you get is often true with the rental properties. However, if your place is not showing its best then a good prospect impression will probably be negative. Good renters will always look for the best properties and they seek the same standards in their home.
While spending the time to prepare your property is a great way to show off your tenants. You might need to repaint your property so that the tenants would get attracted to it. Besides it, you can also repaint the floors and professionally cleaned your home.
Cleanliness is essential and it goes for the home appliances too as well as the bathroom fixtures. This all demonstrates a good intention and maintenance on your part. The Good tenants will always keep your property clean and in good shape.
A positive impression goes a long way towards a long-lasting relationship and this is what we want in our tenants. On the other end, knowing how to keep a good tenant is a part of a successful property business.
5: Communicate with your tenants:
Do you know that Communication is the core of both professional as well as a personal relationship and especially in the rental industry? You start receiving e-mails, phone calls, texts, messages from the potential tenants and the current tenants for either repairing requests or the other services.
It is the property manager who should be valuable as well as responsible to their tenants. They should provide each of their tenant's proper contact information and their usual working hours.
When informing all the rules and regulations to tenants in advance help them in maintaining the decorum of the property. The property managers should also allow the tenants to ask any doubts regarding any rule.
Both open and responsive communication plays a vital role if you modify any rental policies and adjust the rental fee. You also should need to explain why your policies are changing or what is the reason for increasing the cost of the property. This way, it helps the tenants to understand your increased rates.
Undoubtedly, good tenants include the value, honesty when you have open communication with them. So, you need to communicate with your tenants in a friendly and efficient manner. This will also increase your prestige among the tenants and thus persuade them to stay.
Final words: It is quite difficult to find the right tenants for your rental property and how to keep them engaged is a very challenging task that every property manager faces.
Also, the property management groups offer the experience and utilize the resources to help and find out the long-term tenants. So, above we have defined some of the best ways to finding good tenants.
Read Also:
Is it good thing to take loan against property to fulfill personal needs